I wrote 35 PLR Articles on Plant Medicine, something that I've been passionate about for many years. Self-healing is my thing and I've researched plants over the years. As many people are looking for alternative medicines, and searching for Natural Remedies for their health issues.
Wouldn't it be wonderful, if they found out they could grab a leaf out of the yard that would help ease the pain of a bee sting? I think so!
I've also written a big article on Natural Gallbladder Treatment with Step-By-Step instructions on self-treatment and turned into an eBook, I made it pretty with small graphics and a cover, in Word and PDF format for you.
You can use this as is and add to your blog and then take the eBook and give that away to get more subscribers to your list. Or you can add just a couple of articles to your blog and then make a 30-day eCourse and that will get more people on your list.
Plus you could sell the Gallbladder eBook for profit. I've actually tried the treatment twice and it worked perfectly.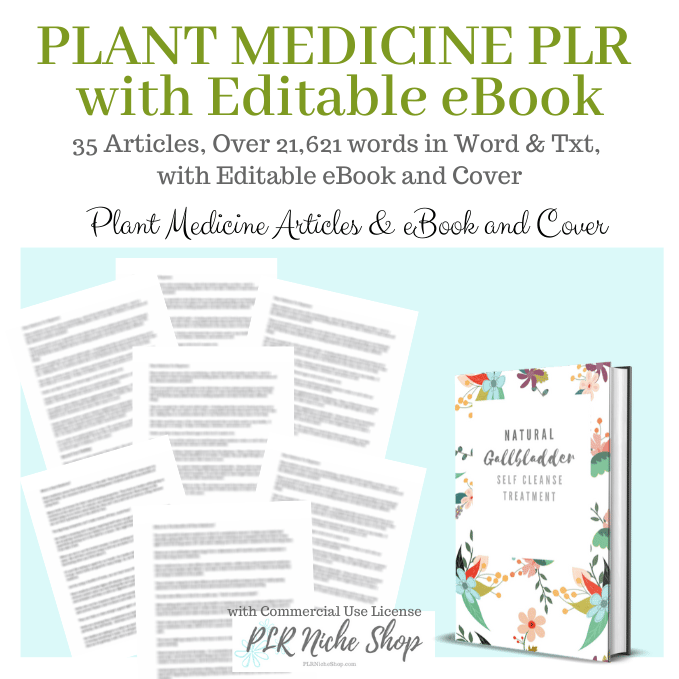 Plant Medicine PLR Front End Product 
35 Unique Articles more than 21,620 words, in both TXT & Word Files and 1,371 words eBook, Natural Gallbladder Treatment with cover. It could be a great start to a new blog or added to your existing niche. Great Evergreen topic!
Plant Medicine PLR (21,621 Words)
What is Plant Medicine (515 words)
What Are The Benefits Of Plant Medicine? (563 words)
Is Plant Medicine Safe To Use? (417 words)
Plant Medicine For Beginners (685 words)
Various Plant Medicines To Use at Home (707 words)
Start Your Own Home Apothecary (497 words)
Plant Medicine For Emergencies (627 words)
Why Vitamin C Is So Important But Never Prescribed (648 words)
6 Medical Plants You Can Grow In Your Garden (586 words)
Medical Peppermint Beneficial To Plant In Garden To Use In Natural Medicine (444 words)
Little Chickweed The Forgotten Medical Healer From Your Yard (681 words)
Elderberries To Boost Immunity (489 words)
Harvesting Dandelions For Plant Medicine (475 words)
Goldenseal Found In The Woods As Yellow Root (661 words)
Plantain Natures Bandaid (631 words)
Using Echinacea As Plant Medicine (616 words)
Valerian Root For Stress and Sleep (520 words)
Nettle Wild Plant Medicine (737 words)
Chamomile Plant Medicine For Upset Stomach and More (553 words)
Violet Natures Vitamin C (708 words)
Yarrow Carpenters Friend (742 words)
Ginseng For Long Life (441 words)
Comfrey Bone Knitter (584 words)
Plant Medicine Infused Bases 101 (783 words)
Plant Medicine Found In The Kitchen (470 words)
Plant Medicine To Make In Fall (489 words)
Plant Medicine To Make In Spring (585 words)
Plant Medicine To Make In The Summer (570 words)
Lavender For Burns and Sleep (690 words)
Simple First Aid Plant Medicine Kit To Replace Drug Store Medicine (664 words)
Plant Medicine For Cold and Flu Season (796 words)
Plant Medicine For Heart Palpitations (687 words)
Plant Medicine For Anxiety and Sleep (478 words)
Natural Gallbladder Treatment (1371 words)
If you buy the first articles then you get a chance to buy my Binder that goes with the articles. You'll get the PowerPoint files so you can make it your own with your Brand and sell it on your website or upload it to Amazon or an Etsy shop.
Here's The Upsell offer:
OTO Plant Medicine Binder with PowerPoint Files 
160 page binder, that has all the 35 articles woven into this Binder, with graphics, note pages, added recipes, and more. This Binder comes with the PowerPoint files so your customer can Brand and make their own Binders and Journals. They can upload them and sell them online for a profit. Plus they will get the How To Make Binders With PLR PDF as a bonus.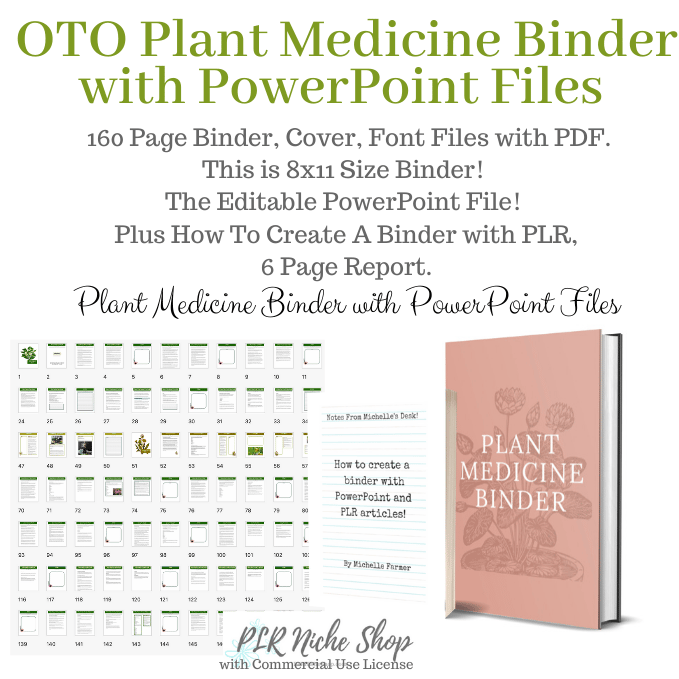 Here's What You Get In The Binder:
Cover page
About page
What is Plant Medicine pages
Notes page
Benefits of Plant Medicine pages
Safe to Use Pages
Plant Medicine for Beginners pages
Lined Notes page
Various Plant Medicines To Use At Home pages
Start Your Own Home Apothecary pages
Plant Medicine Storage pages
Vitamin C pages
6 Medical Plants To Add To Garden pages
Peppermint Beneficial In Garden pages
Chickweed pages
Elderberry Uses and Recipes pages
Dandelion Uses and Recipes pages
Goldenseal Yellow Root pages
Plantain Natures Bandaid
Echinacea Pages
Valerian Plant Medicines pages
Nettle Wild Plant Medicine pages
Chamomile Plant Medicine pages
Violet Natures Vitamin C pages
Yarrow pages
Ginseng For Long Life pages
Comfrey Bone Knitter pages
Aloe Vera Stomach Soother pages
Plant Medicine Infused Bases 101 pages
Plant Medicine In The Kitchen pages
Plant Medicine To Make In The Fall pages
Plant Medicine To Make In The Spring pages
Plant Medicine To Make In The Summer pages
Lavender For Burns and Sleep pages
Simple First Aid Plant Medicine Kit pages
Plant Medicine For Cold and Flu pages
Plant Medicine For Heart Palpitations pages
Plant Medicine For Anxiety & Sleep pages
Natural Gallbladder Treatment pages